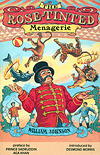 THE ROSE-TINTED MENAGERIE
Table of Contents
INTRODUCTION by Desmond Morris
PREFACE by Prince Sadruddin Aga Khan
AUTHOR'S PREFACE
I. THE BLOOD-RED MENAGERIE
In God's Image
The Dark Ages of Science
The Big Top and the Beast Wagon
The Menagerie
Freaks of Nature
The Dolphin Circus
The Unlearnt Lesson of Clever Hans
Elephants Never Forget
II. ENDANGERED SPECIES — IN ABUNDANCE
Blind Justice
Education and Conservation
Natural Behaviour
Captive Breeding
Triangle of Trade
The Beast Wagon
Stereotyped Behaviour
The Prisoner's Chains
The Endless Journey
Reward and Punishment
III. JUSTICE UNDONE
At the Mercy of the Law
Paragraphs Made of Rubber
Spotlight on the Law
Conflict of Interest?
IV. The International Dolphin Dealers
The Secret Trade
"The Inherent Contradiction"
Counting the Dead
A Labyrinth of Mirrors
International Law
The (Educational) Freak Show
Kiss of Death
Born Captive
V. The Global Industry
The American Dream
South America
United Kingdom
Lobbying Power
An Anathema of Ethics
Iceland
Germany
Italy
Switzerland
Knie's Kinderzoo
Conny's Flipper Show
The Strange Case of Bruno "Houdini" Lienhardt
Animals go to war
Bruno "Houdini" Lienhardt (continued…)
VI. THE FINAL CURTAIN?
The Latest Show on Earth
BIBLIOGRAPHY