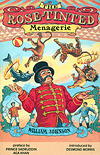 A History of Animals in Entertainment,
from Ancient Rome to the 20th century
From the circus amphitheatres of ancient Rome, to the first travelling dolphin shows in America, Europe and the Far East… From the global trade in wild animals, to the captive chimps and dolphins exploited as tools of war… Through two thousand years of history, The Rose-Tinted Menagerie explores the human attitudes that have shaped our species' conquest-driven relationship with nature as a whole, a psychology as evident in the taming of the wild beast for the circus arena, argues the author, as in the razing of forests or the mass extinction of species.
'An outstanding investigation…' — Naomi Lewis, Books of the Year, The Observer
'A ground-breaking work… of great importance…' — Tom Regan
MONK SEALS IN POST-CLASSICAL HISTORY

Two titles focusing on "Europe's most endangered marine mammal," the Mediterranean monk seal, and its role in the history, culture and ecological decline of the Mediterranean Sea.
Although it may be thought of as an obscure species today, its very survival hanging by a thread, the Mediterranean monk seal has appeared in numerous writings inked onto papyrus, parchment or paper during the last 3000 years.
Homer, Aristotle, Hippocrates, Plutarch, Galen, Avicenna and Gesner are among some of the ancient and Renaissance world luminaries who recorded observations about the Mediterranean seal and its relationship to human culture, folklore, science and economy.
With the monk seal now sometimes referred to as an ecological barometer of the ailing sea it inhabits, this two-part history also seeks to explore the extent to which ancient human attitudes towards the species are still prevalent today.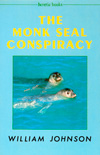 Wild landscapes and political intrigue among the scattered islands of the Aegean
Iridescent Publishing presents the full, unabridged version of The Monk Seal Conspiracy. The book takes the reader to the lush island of Samos in the Eastern Aegean, into the headquarters of the Greek intelligence services, into confidential meetings of the world's most influential conservation organizations… Vividly-described episodes, both comical and poignant, describe the fight to save Europe's most endangered marine mammal and its polluted, tourist-jammed habitat.