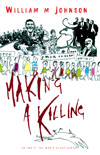 Remember, Amazon provides free apps so that Kindle books can be read on Macs and PCs, smartphones, and tablets.
MAKING A KILLING
Reviews
'[A] highly original, often unexpectedly witty but frightening tale of man's destruction of the Earth and his seeming indifference to the fate of all creatures but his own. William M Johnson courageously pulls no punches. No one is spared. There are no innocents, either here or abroad… This sharp, brilliantly observed book deserves a wide audience.' — Virginia McKenna
★
'Many a true word is spoken in jest, like Mark Twain's wise and witty observation, "Man is the only animal that blushes and has reason to."
William M. Johnson's novel about double standards within many organisations in the wildlife conservation movement is a mind-blowing and witty exposé of the other side of the coin: Those who are literally cashing in on caring men, women and children's financial support of many organisations (some good, some bad), and their efforts to save the planet.
This is a no-holds barred, no mercy account of the conservation mercenaries' (Have Bad News — Will Travel — First Class) successful efforts to get a rich living from a dying planet.
This book is a "must" for the guilty and the innocent so that lessons can be learned before it is too late.' — Ian MacPhail, a founder of World Wildlife Fund (WWF)
★
'[A] black comedy the deepest shade of noir. William Johnson has written a novel that invites comparison with Tom Sharpe or Ben Elton… rollicking along from demos to Earth Summits, throwing in popes and presidents and royals, introducing various speaking animals into the castlist and ending on a suitably apocalyptic note, illustrative of the Gaia hypothesis… A heady and entertaining mix…a brave attempt at the Great Green Novel.' — David Nicholson-Lord, BBC Wildlife Magazine
★
'A witty exposé of the double standards of nature conservation… This tale of man's destruction of the Earth is bound to cause controversy. But it will certainly make you laugh too.' — The Geographical
★
'A withering attack on the multinational charities which dominate today's environmental protection scene… feathers are sure to fly…' — Sutton Coldfield Observer
★
'An author with an instinctive feel for his subject…prepared to carefully and quietly dissect the high-profile world of nature pseudo-conservation until all that remains is something devastatingly unnatural…' — The Comedy Review
★
'A wicked black comedy that pulls no punches… The gruesome cast of characters includes politicians, industrial corporations flaunting their 'green' credentials while despoiling the earth, and hypocritical television journalists more interested in their ratings than the truth. The royal family gets an earful for arguing that they are saving wild animals by shooting them. More controversially, conservationists are also given a pasting especially when they embrace the idea of sustainable exploitation — ripping off natural resources while trying to convince everyone that it's actually good for endangered wildlife. The animals themselves watch in bewilderment as they try to understand why the human species seems incapable of grasping that it is committing suicide.' — Sunday Mercury
★
'…a novel to lift the lid on the world of conservation…[a] story of political intrigue and environmental mayhem. [Johnson's] 1990 book, The Rose-Tinted Menagerie, was one of The Observer's Books of the Year and his latest work has received critical acclaim…' — Sutton Coldfield News
★
'A controversial black comedy which highlights the darker side of conservation — the multinational corporations, vote-catching politicians and conservation organisations competing against each other instead of fighting for a common cause… A satire that will attract not only committed environmentalists but also fans of fast-paced murder mysteries…' — Environmental News & Information Service, The Conservation Foundation
★
'A Royal Family, the Roman Catholic church, conservation organisations, the United Nations — they all come in for brutal yet hilarious treatment in William Johnson's new book, Making a Killing… Johnson's acerbic, dark sense of humour cuts through the veils of smoke and secrecy that surround the environmental movement and its acolytes. Based on a wealth of experience the reader will sense that this book is far from a work of total fiction. The characters are too finely drawn, the situations too believable, the diagnosis too plausible, the danger too real. It's a scenario that could — perhaps will happen. And it's a warning to us all. I couldn't put it down.' — Wildlife Times
★
'A devastating black comedy…' — Wildlife Guardian