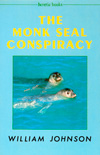 THE MONK SEAL CONSPIRACY
Quotes and Highlights
On how conservation projects are won or lost…

We all clambered into a taxi and sped off through the midday traffic. Arriving at the ministry, I ushered them quickly through security, a feat that can only be accomplished by brazenly pretending to be an aloof and imperious VIP. On the top floor, however, Antonis Tritsis agreed only to see Weber, perhaps suspecting that Rita and I had arrived without wearing shoes. When a troubled Franz Weber finally emerged from the meeting, he quoted the minister as saying that the YPEA [the Intelligence Service for National Defence] report was probably not to be taken seriously and that the allegations [of espionage] contained in it were probably groundless.
Ylva Wigh, trying to comfort Franz and cooing in his ear on the way back to Athens, told him that she would make a personal phone call to Melina Mercouri to seek an interview and photo-session. That evening we all met in Ylva's apartment and she announced huskily, 'I told Melina she must simply drop everything to meet you, darling. I asked her, did she know that this selfless man had donated 100,000 Swiss francs to save the natural heritage of Greece, and promised another million? The government had entirely ignored him, and there would be the most frightful scandal in Switzerland.' It was all arranged. Weber and I would meet Melina the following morning, and Susan Mulhauser-Tritsis, a professional photographer and the wife of the Environment Minister, would be on hand to take press photos. "You must wear your safari outfit, darling,' she purred at Weber. 'You look so sexy and Melina will simply adore it!"
And so the following morning, Franz Weber and I met with Melina Mercouri, Minister of Culture and Sciences, the former film star who had played the ageing prostitute in the celebrated film Never on Sunday. Judging by the melodrama surrounding Melina and her entourage, theatrics were still very much part of the scene at the ministry, although the leading lady, close up, looked tired and haggard. As we drank Greek coffee and ate sesame bread during the hour-long meeting and photo-session, she pledged her full support for the project, and said that YPEA's actions were "probably the result of a bureaucratic mix-up".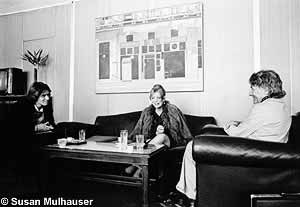 Associated Press wirephoto, 30 April 1982: "Franz Weber asked for Melina Mercouri's help so that British seal conservationist Bill Johnson (left) can return to the eastern Aegean island of Samos… In a bureaucratic foul-up, Johnson was accused of spying for Turkey and is in trouble from Greek police who have requested he stays out of Samos."
She strode purposefully over to her battery of telephones and called a Mr Potakis at the Ministry of Co-ordination, whom she called the government's "secretary of state". She requested him to resolve the YPEA problem immediately and to provide me with an unconditional permit to stay in Greece. We then rushed to the Ministry of Co-ordination, with Weber desperately holding onto his shock of grey hair as though it were a toupee in danger of being dislodged by the high winds that came gusting through Syntagma Square. Wishing to spare him any embarrassment, I looked the other way and prayed. I knew instinctively that if the toupee were to blow away into the rush hour traffic, the project would be doomed.